VTG Large Cranberry Clear Cased Venetian Sommerso Italian Murano Art Glass Vase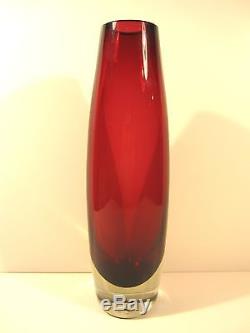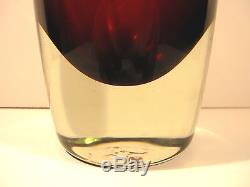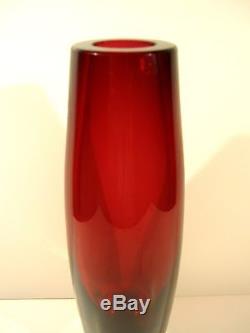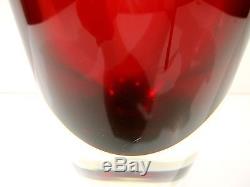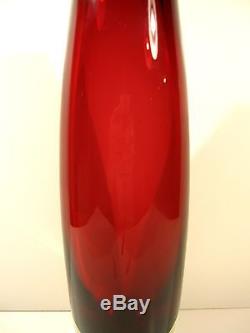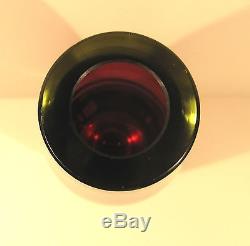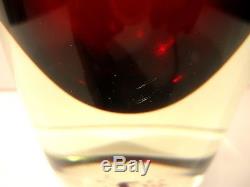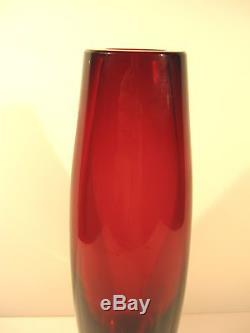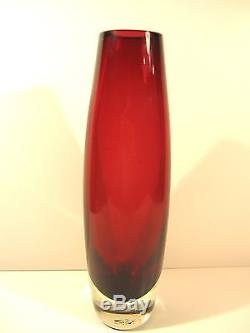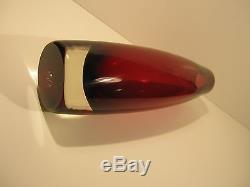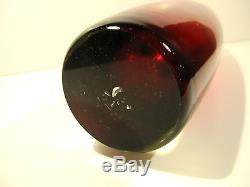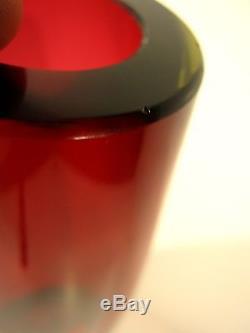 VTG Cranberry & Clear Missile Olive Sommerso Italian Murano Art Glass Vase. Presented for your consideration we are offering this stunning large Italian sommerso Murano mouth blown art glass cranberry red and clear art glass vase. Beautifully decorated mouth blown sommerso murano glass with beveled top rim in missile shape. Measures 13 1/4" (34cm) High x 4" (10cm) Diameter at widest most bulbous point at center. Quite heavy, weighing 6 lbs (2.72kg).
In very good vintage condition, with a tiny 1mm x 1mm (NOT CM), fleabite on top outer rim, and a few minor surface scratches, commensurate with age and fine care -- Large imperfections on base are IN FACT INSIDE GLASS, AND ARE NOT CHIPS, BUT AIR BUBBLES. Inside of vase is a bit dirty and could use a cleaning. Tiny air bubbles and irregularities are in the nature of mouth blown glass and are to be expected flaws in the production process. If these are nor to your liking, perhaps blown glass is not for your taste. Please do indeed look at all photos as they are an integral part of description. This is a lovely vintage Italian murano art glass vase, and we are pleased to offer it to market for your pleasure. Murano glass is a famous product of the Venetian island of Murano. Located off the shore of Venice, Italy, Murano has been a commercial port as far back as the 7th century.
By the 10th century, the city had become well-known for its glassmakers, who created unique Murano glass. While Murano glassmakers have settled and operate elsewhere, some say authentic Murano glass is fabricated only in Murano.
"Submerged" in Italian, or " sunken glasses ", is a form of artistic Murano glass that has layers of contrasting colors (typically two), which are formed by dipping the object in molten glass; the outermost layer, or casing, is often clear. Sommerso was first developed in Murano during the late thirties and was made popular by Seguso d'Arte in the fifties. This process is a popular technique for vases, and is sometimes used for sculptures.
It is believed that glassmaking in Murano originated in 9th century Rome, with significant Asian and Muslim influences, as Venice was a major trading port. Muranos reputation as a center for glassmaking was born when the Venetian Republic, fearing fire and destruction of the citys mostly wooden buildings, ordered glassmakers to move their foundries to Murano in 1291. Murano glass is still interwoven with Venetian glass.
Murano's glassmakers were soon the islands most prominent citizens. By the 14th century, glassmakers were allowed to wear swords, enjoyed immunity from prosecution by the Venetian state, and found their daughters married into Venices most affluent families. However glassmakers were not allowed to leave the Republic. Many craftsmen took this risk and set up glass furnaces in surrounding cities and as far afield as England and the Netherlands.
By the end of the 16th century, three thousand of Murano island's seven thousand inhabitants were involved in some way in the glassmaking industry. Muranos glassmakers held a monopoly on quality glassmaking for centuries, developing or refining many technologies including crystalline glass enamelled glass (smalto), glass with threads of gold (aventurine), multicoloured glass (millefiori), milk glass (lattimo), and imitation gemstones made of glass. Today, the artisans of Murano are still employing these century-old techniques, crafting everything from contemporary art glass and glass figurines to Murano glass chandeliers and wine stoppers. Today, Murano is home to a vast number of factories and a few individual artist's studios making all manner of glass objects from mass marketed stemware to original sculpture. The Museo Vetrario (Glass Museum) in the Palazzo Giustinian, which holds displays on the history of glassmaking as well as glass samples ranging from Egyptian times through the present day.
Murano Glass was produced in great quantities in the 1950s and 1960s for export and for tourists. Special tools are essential for Murano artisans to make their glass. Some of these tools include borselle (tongs or pliers used to hand-form the red-hot glass), canna da soffio (blowing pipe), pontello (an iron rod to which the craftsman attaches the object after blowing in order to add final touches), scagno (the glass-master's workbench) and tagianti (large glass-cutting clippers).
We do our very best to describe each and every item we sell accurately, pointing out all flaws that would impact a piece's value and / or aesthetics. We include several photographs from every angle, as if you were holding the piece in your hands, so be certain to read the description carefully, and do indeed take your time to browse all of our photographs. WE GO TO GREAT LENGTHS TO BRING A VAST ARRAY OF THE FINEST AND UNIQUE COLLECTIBLES TO MARKET FOR YOUR ENJOYMENT AND PLEASURE.
IF YOU NEED ANY ADDITIONAL PICTURES, PLEASE LET US KNOW. PLEASE VISIT OUR STORE formula1monacocollectibles TO SEE OUR MAGNIFICENT INVENTORY. WE ARE CONFIDENT THAT IS HOW YOU WOULD PREFER IT. 100% FEEDBACK IS OUR GOAL. PLEASE, IF YOU CANNOT LEAVE US (5) STARS ON ALL FEEDBACK RATINGS, INCLUDING. WE STRONGLY RECOMMEND THAT PRIOR TO UTILIZING ANY VINTAGE ELECTRONICS i. Photographic, audio, video, etc FOR ACTUAL USE THAT THEY BE TAKEN TO A PROFESSIONAL TO BE PROPERLY INSPECTED AND/OR SERVICED IF YOU ARE NOT AN EXPERT. WE ARE NOT EXPERTS IN ELECTRONICS, AND THEREFORE CANNOT IN GOOD CONSCIENCE OFFER ANY WARRANTIES NOR GUARANTEES WITH RESPECT TO FUNCTIONALITY. THIS IN NO WAY IMPLIES THAT OUR ITEMS ARE NOT PERFECTWE SIMPLY ARE NOT EXPERTS.
The item "VTG Large Cranberry Clear Cased Venetian Sommerso Italian Murano Art Glass Vase" is in sale since Monday, May 16, 2016. This item is in the category "Pottery & Glass\Glass\Art Glass\Italian". The seller is "formula1monaco" and is located in Philadelphia, Pennsylvania.
This item can be shipped worldwide.
Country of Origin: Italy
Design: missile shape cased glass mouth blown venetian
for: centerpiece pedestal cabinet curio display
Color: Red
Object Type: Vase
Type of Glass: Elegant Glass
Glassmaking Technique: Sommerso

---