Vintage Fulvio Bianconi Murano Art Glass Forato Vase For Venini Labeled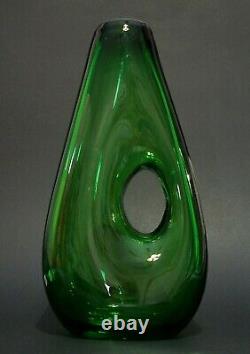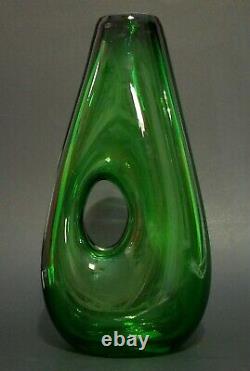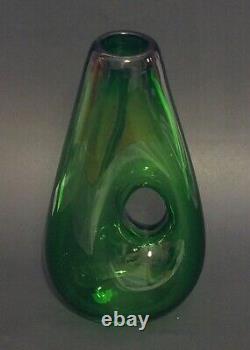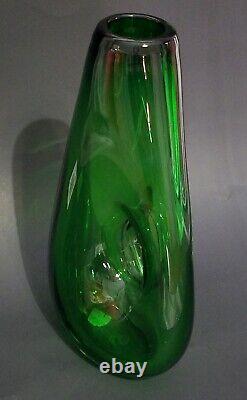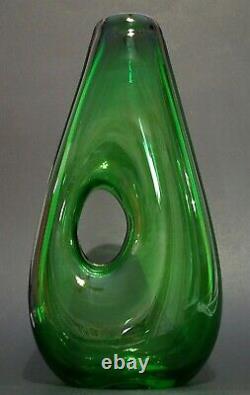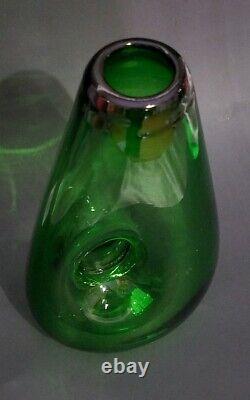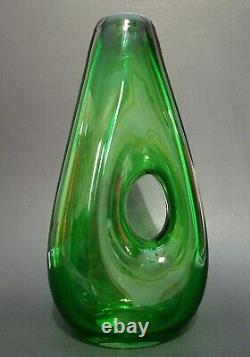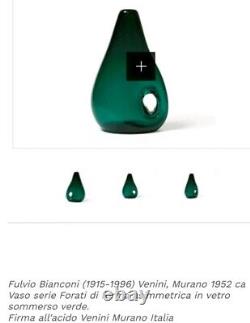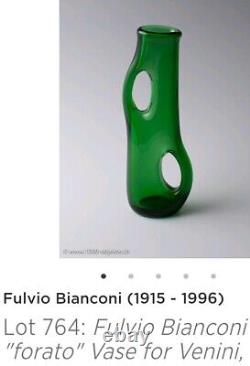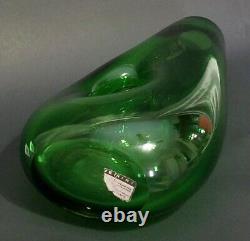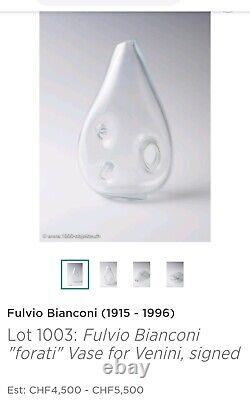 Beautiful example of Venini piece designed by Fulvio Bianconi, circa 1950 Hand-blown art glass "forato" form vase in lovely green color. This piece is absolutely stunning. Labeled with old partial label. Please see all the images of this vintage piece. Almost same vase is shown in the book by Gasparetto, Astone - IL VETRI DI MURANO DALLE ORIGINI AD OGGI : PREF.
VENEZIA, POZZA from 1958 Matching bowl/vase is picrured in book by Carl B. Gable "MURANO MAGIC, Complete guide to Venetian Glass" Excellent vintage/used condition.
No cracks or impact marks. Measures approximately 10.75" tall x 5.5" wide Great addition to any collection. Fulvio Bianconi has been the artist who, creating in glass the Venetian Carnival and Commedia dell' Arte characters, was the first to portray human beings in glass, thus breaking the tradition of glass being a secondary materian as far as artistic expression is concerned.
A believer in the maximum creative freedom of the artist, with absolutely no ties to ierarchy nor industrial clichés, he always liked to plunge in person into the creative process. Again Bruno Munari, in the preface of the book "Bianconi's glass" : "He likes go directly in the furnace and work together with the master glassmaker, and such is his passion and energy that he is able to enter into the glassmaker's spirit and makes him work according to his desires".
For over 30 years he was the mind behind the external image of Garzanti, one of the most distinguished and prestigious Italian publishing houses, making it a focal point of reference for the best Italian and foreign graphic artists. He also has contributed to the image of FIAT, Marzotto, HMW, Pathé, Columbia, Pirelli and others. He was a close friend of Gaetano Sperati, Bruno Munari, Zavattini and many other important figures who have helped shaped Italy in the last half of the twentieth century. "We could call him the designer of Italy's republic years", Alfonso Gatto wrote. Working and living in Milano, he chose the best way to learn how to love our Milano...
Open to hope, to work", wrote Giorgio Nicodemi, in his book "Milano, vedute e panorami (Gorlich publishing house). Bruno Munari, again in the preface of "Bianconi's glass", writes:...
I mean he draws while eating, while talking, while walking the streets, he draws in the vaporetto, in exhibitions, during conferences, everywhere and anytime. Fulvio Bianconi has observed that a drawing is a sign on paper, can be done even on a wall or on a cardborad, it often is a project or a desire.
The drawing is nobler than the sketch. But sometimes the sketch moves more than the drawing. Reflecting on his unusual career, he wrote, with his particular blend of wistful humour: Who knows what road might I have taken if I hadn't met Dino: first with panettone [a reference to his work for Motta sweets], then with countess Asura, I ended up even making glass! " (from "Homage to Dino Villani, Botteggi Suzzera publishing house, 1991). Of him it has been written: "Eclectic and with a multi-faceted talent, Bianconi is one of the few graphic designers of his generation, all with an artist's training, who have been able to make the transition from the collage book covers to the book series with no pictures, like Garzanti's Blue collection" (from the preface of a book by Scheiwiller publishing house, Milano, 1988). Fulvio Bianconi, as a person and as an artist, expressed a way of thought and action which belongs to a world now almost extinct, and that which would hardly be able to exist in an age when ethical, behavioural and existential guidelines have undergone a deep change in all levels of society.
Fulvio Bianconi, working relentlessly, in more than 60 years of activity, has designed thousands of book covers, has illustrated books. This item is in the category "Pottery & Glass\Decorative Pottery & Glassware\Vases". The seller is "goldcrowncollectibles" and is located in this country: US. This item can be shipped worldwide.
Brand: Venini
Type: Vase
Model: Forato Vase
Material: Glass
Production Style: Art Glass
City of Origin: Murano
Country/Region of Manufacture: Italy

---