RARE VINTAGE, MURANO ART GLASS MALE & FEMALE With FRUIT BASKETS SCULPTURES, 10 1/2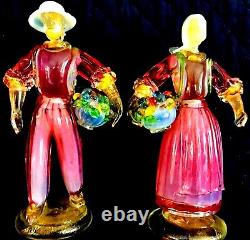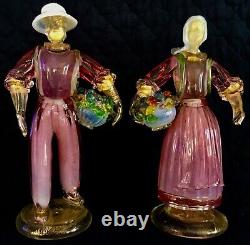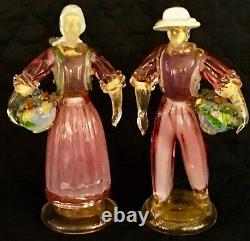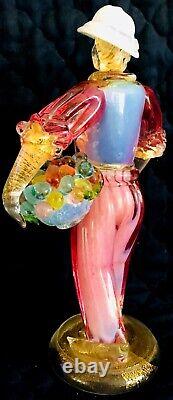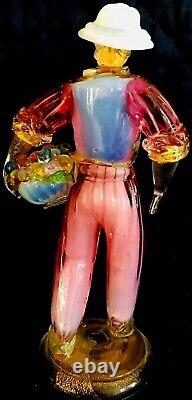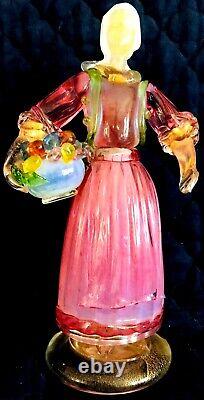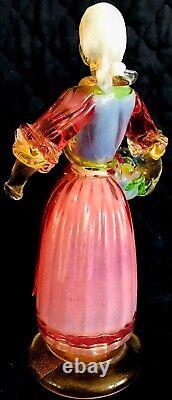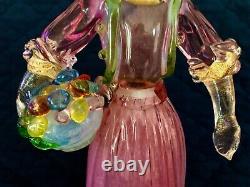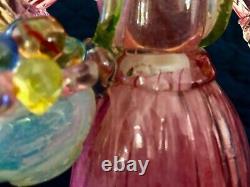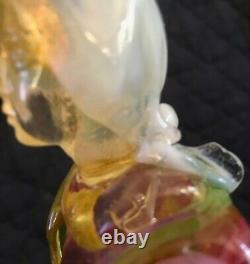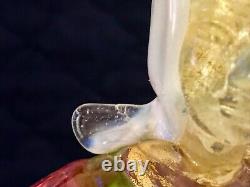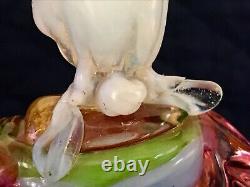 Item under consideration are rare, original, 10 1/2 inch tall, vintage Murano matching glass sculptures of a man and woman carrying. The faces of both the male and female sculptures are presented in fine lifelike details.
The use of gold flecks is evident throughout both sculptures in the faces, arms, in the garment collars, and bases. The attire of both sculptures are very similar in coloration. Starting with white opalescent head covers.
Pink shirt/blouse and white vest with green trim. On the lower body are white under garments cased with a.
Both the man and women carry large opalescent baskets overflowing with various. The artist typically mouth blows the various parts, each separately(arms, fruit baskets, head, hat).
The various parts are then attached together, with one of the parts still semi-molten glass, allowing the parts to melt together. Note: the ponti marks on the bottom of the figurine bases and fruit baskets. These particular statues have as many as 6 or 7 distinct parts joined together to represent the finished product. This process can produce irregularities/anomalies at the points where the parts are joined together. Width, including arms- 5 1/2 inch.
Diameter of base- 3 3/4 inch. Weight- Male: 2 pounds, 15 ounces.
Female: 3 pounds, 2 ounces.

---