GlassOfVenice Vintage Murano Glass Millefiori Pedestal Paperweight Sculpture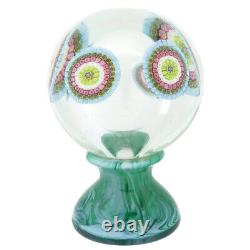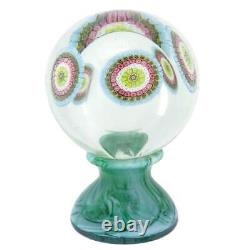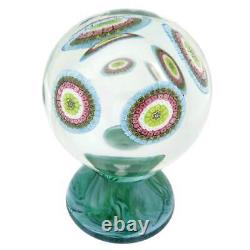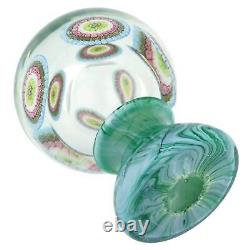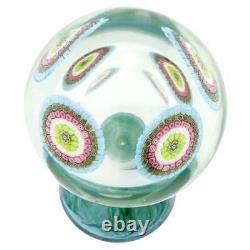 Vintage Murano Glass Millefiori Pedestal Paperweight Sculpture. > Ask a Question <. GlassOfVenice Vintage Murano Glass Millefiori Pedestal Paperweight Sculpture. This vintage Murano Glass Paperweight with stunning Millefiori decorations is a mid-century Venetian art glass masterpiece. This elegant Millefiori paperweight sculpture features exceptional translucency, graceful form, and a contemporary design of colorful Millefiori circles set against simple transparent background.
This sculpture is a play on classic designs in Murano art glass and a beautiful decorative accessory for any interior decor, including mid-century modern, minimalist, art deco, industrial, and more. It is an amazing unique gift to anyone who appreciates vintage decorative Italian glass pieces and values the beauty of Murano Glass Art. Measurements: This Murano Glass sculpture measures 7-1/2 inches high x 5 inches wide. Weight is approximately 7 lbs.
This is an authentic vintage Murano Glass paperweight sculpture. GlassOfVenice fully certifies its authenticity. This is a pre-owned vintage piece. It is in excellent vintage condition but may show some slight wear commensurate with age. The sculpture is free of defects or damage. There are no chips, cracks, repairs, or areas of heavy wear. This mid-century Murano Millefiori sculpture is heavy and comes well-packaged to avoid damage in transit. For many years GlassOfVenice has focused solely on direct import and worldwide distribution of authentic Murano Glass from Venice, Italy. GlassOfVenice was founded by a team of people with passion for Italy and Venice and appreciation of Venetian artistic heritage. The company carries the full range of Murano Glass crafted by the top artisans, from jewelry to tabletop, vases, sculptures, and chandeliers.
GlassOfVenice stocks all its products in the U. Here is a video of the product.
Larger Murano Glass figures and sculptures are typically made in the ancient factories on Murano island, where there is enough space to turn, twist, and blow the glass, move it into and out of the large furnaces, and cool it down properly. Making the glass mixture with the right color intensity and pattern is only a part of the job. The biggest challenge is shaping the glass just perfectly while keeping it in the correct state in between the bench and the furnace. This requires special skills rarely found outside of Murano Glass artist and artisan community. These Murano Glass sculptures of lovers, abstract art, and animals crafted in well-known Murano factories are top-quality art glass pieces sought after by interior decor specialists and collectors alike.
It is our goal to get the products to our customers safely and quickly. Every piece is packaged very carefully, using appropriate padding and special corrugated boxes to ensure safe journey.
Please keep in mind that Murano Glass is a handcrafted artisan product that is created using only basic tools and centuries-old techniques in traditional glass-making workshops in Venice, Italy. This means that no two items can ever be the same and variations of colors, patterns, and sizes is a normal characteristic of this product. Colors, patterns, and designs that differ from the photos you see on the site do not constitute defects but mean that you are purchasing authentic artistic product shaped by the hands and fantasy of the master artisan in Venice. If you feel that there is something wrong with the product you received please let us know immediately so that we can properly assist you.
Anything that comes in sealed factory packaging, such as chains, must have the packaging intact and unopened. Please note that special and custom orders are not refundable. Place the packaged product in a protective outer box. Ste B1 Glen Rock, NJ 07452.

---