Vintage Ercole Barovier Murano Glass Vase Iridato Applied Ribs 1930-40s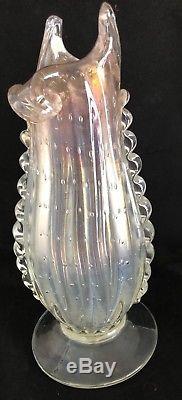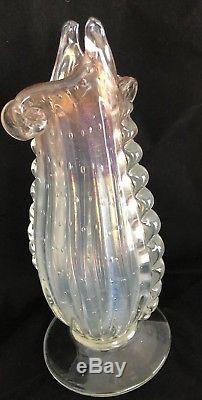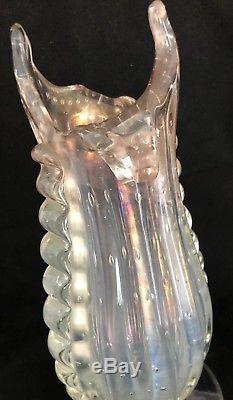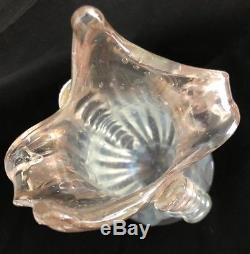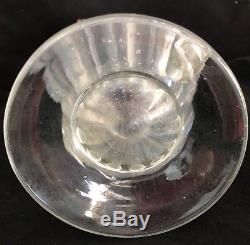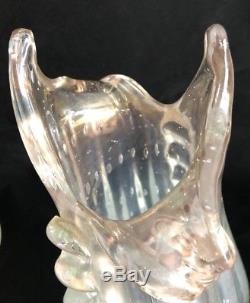 This is a fine and rare example of Ercole Barovier's work dating to before Barovier and Toso was incorporated, likely being created in the late 1930's or during WWII. The materials used were a staple of Ercole Barovier's during those days, heavy glass, predominately clear, with the use of applied forms, iridating chemicals, subtle coloration found within the body, rib forms, applied base, controlled bubbles and subtle or not so subtle use of coloration within the clear glass elements.
Pleas look closely at the photos and feel free to ask questions relating to what you see or any other item that you may want to have answered. I will do my best to provide other photos if needed. My reference books lead me to believe this is a very rare specimen as with their use and my search on the Internet failed to reveal any vase of duplicate construction. The closest match I found was in Leslie Pena's book ITALIAN GLASS CENTURY 20 ON PAGE 35 in the form of an iridated vase with leaf applications and controlled bubbles.
Although this vase was of the near same dimensions the applications, and footed base differ, the coloration differs in color gradients and is basically a reasonable reference but not a difinitive match to discuss further. This vase had approximate dimensions of 11 3/4 inches in height, the base diameter is about 5 inches and the vase body is perhaps 5 1/2 inches at the widest point.
A description of this vase would be of those dimensions, with an applied convex footed base of heavy clear glass that is unmarked. The vase sits upon the foot and is of a bulbous design with ribbing ver similar to many other Barovier pieces with applied ziggurats on each side but not actually at 180 degree opposition as the ribbing required slight aleration from the symmetrical in order for the application to lay properly on the ribbed elements. The top of the vase has been pulled into four points two of which are folded or rolled under in more of an organic form while the other two points are pulled into points that are opposite of each other. These points form also suggest the organic nature of the vase.
Externally the iridescence has been applied in a manner that creates a rainbow type of effect that causes the coloration to change from a form of pearl iridescence to a rosy color at the vase's top. Internally there are the controlled bubbles and differing forms of coloration that resembles both smoke and milk being pourde into liquid with the predictable results of both swirls and the tell tale signs of dissolving colors from marginally opaque to clear. I do not know what name was given to this type of glass, smfumato, lattimo, iridato, as this glass seems to possess elements of all of those techniques but does not fall into any of them in a difinitive manner with the exception of being iridescent being the overall coloration element used by Barovier to effect this vase. This vase is rare, and in excellent condition.
There is no damage to the piece although there are numerous portions of the vase where the tool marks and what may be a small snippet of glass that fell back onto one of the pulled point that can both be seen and felt to be raised and not smoothly finished. Each of the points in this vase bear some glass makers tool marks as in evident in most all Italian art glass of the period. Thank you for your interest. The item "Vintage Ercole Barovier Murano Glass Vase Iridato Applied Ribs 1930-40s" is in sale since Saturday, June 20, 2009. This item is in the category "Pottery & Glass\Glass\Art Glass\Italian".
The seller is "connie100183" and is located in Boca Raton, Florida. This item can be shipped worldwide.
Glassware Category: Italian Art Glass
Region & Style: ITALY, MURANO
Original or Reproduction: Original
Brand & Maker: Ercole Barovier

---